Agar.io (Mobile Version)

Details

Developer:
Miniclip
Genre:
Massively Multiplayer, Casual, Free To Play
Platforms:
Android

iOS

Release Date:
Android: July 7, 2015

iOS: July 8, 2015

Current Version:
Android: 1.0.4

iOS: 1.0.0

Version Requirement:
Android: 2.3.3 and above

Apple: iOS 6.0 or later. Compatible with iPhone, iPad, and iPod touch. This app is optimized for iPhone 5, iPhone 6, and iPhone 6 Plus.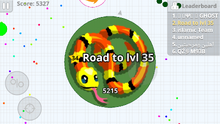 Mobile Version of Agar.io is free, you can download it in Google Play and App Store. In Mobile Version, the server will selected randomly when you start the game with FFA game mode. Agar.io could also be played on your mobile browser by typing "Agar.io" in the address bar with different look, but now it will direct you to Google Play and the App Store.
Controlling and Tips
[
]
In addition to controlling one cell with the touch screen you can also split your cell or shoot mass. You can use this to split and catch up to a smaller cell that is faster than you. Or you can shoot mass to slow that cell down and catch up, just make sure they don't grow too much.
While you are small you can hide in a green virus, but when you are bigger it will split you. You can regroup, but you will need to smash into your other parts to do this.
If you play agar.io mobile version on your browser, it can not eject the mass because there no features that able to ejecting cell and the cells can do splitting by pressing the button on the up left corner.
Change Agar.io Controls
[
]
You can customize the Agar.io controls to match your play style. There are several important options to choose. The first one is Stop On Release. If you turn this off, the cell will keep moving when you take your finger off the screen. This can be handy if you need to re-adjust or to tap a button.
You can also choose to use Direction on Touch. This option is handy as you can touch the screen and immediately start moving in that direction.
History
[
]
July 7, 2015 Agar.io available for Android devices on Google Play.
July 8, 2015 Agar.io available for iOS device on App Store.
Version 1.7.1 - Released on April 20, 2017 for Android and on April 26th, 2017 for iOS.
Version 1.9.1 - Released on September 15, 2017 for Android and on September 19, 2017 for iOS.
View full Version History for mobile.
Gallery
[
]